Metal foot adjustable PRB05 ® (installation PCB03)
Referencia: PRB05
Marca: Star Automation
Adjustable feet can be used for PCB3® installation and for many other uses
Support for Bimanual
FEATURES:
Two telescopic tubes of Ø55 and Ø60 mm with a lever to fix the selected height angle and turn position.
Two cable entries at bottom side and an Ø48 mm PVC cone at the top to retain the cables.
A plate of 200x90x3 mm on top side prepared to assemble the PCB3®, and lever for the inclination adjustment.
A robust and stable base plate with two Ø10,5 mm holes to fix the metal foot on the floor.
The PRB05 base plate is prepared to accept two foot control unit.
Steel made.
Standard paint RAL2003 orange textured.
Weight: 9,2 Kg.
Dimensions:
Base plate: 435 x 360 x 6 mm
Height: 720 – 1170 mm (PCB3® installed)
Accesories: 2 safety foot control (optional)
Weight: 9,2 Kg.
Color: RAL 2003 (other colours available)
NOTE: The adjustable metal foot PRB05 is sold loose and you can use to place other types of mechanisms.
Discover our DIGITAL CATALOG of our Bimanual PCB3
VERY COMPETITIVE PRICES!!
ESPECIAL TWO-HAND CONTROL:
RAL 9001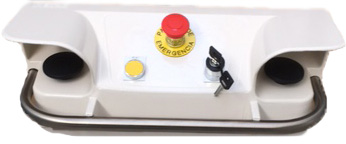 RAL 7004 with special machining:


Archivos adjuntos