Relé de mando a dos manos HR-2007F (230V AC)
Referencia: 42080031
Marca: Duelco
Módulo de dos manos para usar con botones mecánicos en aplicaciones de dos manos.
(24V AC/DC y 230V AC)
(Two-hand CONTROL relay HR-2007)
Datos Técnicos HR-2007F 230V AC:
Relé de mando a dos manos HR-2007F
Categoría 4 
2 contactos NA
1 contacto NC / 1 TR
Carga de contacto: AC 6 A / DC 6 A
Tensión de alimentación: 230V AC 
Supervisión de contactores externos
Indicador LED de alimentación y del estado de K1 / K2
Carcasa de 22,5 mm para ahorro de espacio con terminales fijos 
Montaje sobre carril DIN
Diseño basado en el estándar europeo, EN ISO 13849-1 / EN 574
Cumple con MD, EMC, LVD (98/37/EC, 92/31/EEC Y 73/23/EEC)
PL d
Certificación:
Aplicación:

-----
Technical features:
- Performace level e acc. to EN ISO 13849-1
- Type IIIC (EN 574)
- Status-/fault indication via LEDs
- 2 NO safety outputs
- Short circuit monitoring
- Available with 230VAC and 24V AC/DC supply voltage
What can the new Duelco two-hand relay HR-2007 offer you?
- Simplicity
- Fast and easy installation via user friendly connection examples
- Two-hand control relay for dangerous work processes such as punching or pressing
- Verification of the operation of both control switches within max. 0.5s
- Status-/fault indication LEDs for indication of the status of the internal relays, the outputs and the supply. The LED signalling can reduce trouble shooting time.
Technical facilities regarding safety requirements:
- Forced contacts
- Transistor output
- 2 NO contacts
- 1 NC contact
User's advantages:
- Safety category 4 / performance level e acc. EN ISO 13849-1 and IIIC cf. EN 574
- Monitoring of external contacts (F1-F2)
- 2 NO contacts, AC1: 230 V AC / 6A ; DC1: 24V / 6A 1 transistor output 18 VDC
- Voltage versions: 24V AC/DC and 230 VAC
- Design is based on the european standard, EN 60204-1/EN 574
- 22,5 mm slimline housing
- LED indication for power, channel 1 and channel 2
- Complies with MD, EMC, LVD (98/37/EC, 89/336/EEC & 93/68/EEC)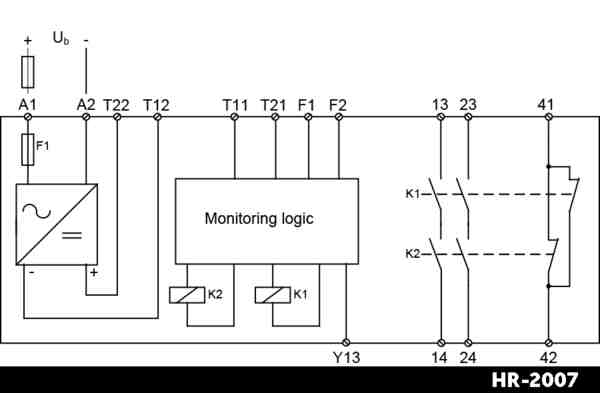 Archivos adjuntos