Two-hand Control Desk PCB3 ®
Referencia: PCB3
Marca: Star Automation
TWO-HAND CONTROL DESK METAL
BIMANUAL CONTROL PCB3® - TWO-HAND CONTROL - CONTROL BUTTON - BIMANUAL CONSOLE - TWO-HAND OPERATION CONSOLE
The Two-hand control PCB3® desk (bimanual control) is designed for applications where the safety of the operator must be under control at all times. For example in: presses, stamping machines, primer, plastic industry as well as any machine with risk of being trapped or crushed.

It requires at least one simultaneous maneuver using both hands to start and maintain, while there is a dangerous situation, any operation of a machine, thus providing a measure of protection only for the person who operates it.
On request it is possible to supply equipment with certain special characteristics, or pre-assembled at the factory, for example:
Special painted.

Additional bracelets assemblies: push buttons, indicator lamps, beacons, selectors, etc.

Pre-wired units.

Labels with texts in different languages, for example in the emergency stop.
Importants advantages:
Prepared to fit directly on the adjustable foot PRB05.

Formed by two parts to facilitate connection with the buttons

Very competitive price.

Available with pneumatically actuated contacts.

Great flexibility to make the desks in a personalized way (Painted, machined and wired)
Discover our DIGITAL CATALOG of our Bimanual PCB3
VERY COMPETITIVE PRICES!!
ESPECIAL TWO-HAND CONTROL:
RAL 9001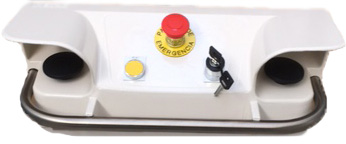 RAL 7004 with special machining:


Archivos adjuntos